It's All Such A Lot …
It's All Such A Lot …
So let's make "Persian" Sour Plum Chile Garlic Sauce
Originally posted on Substack, 10/5/2020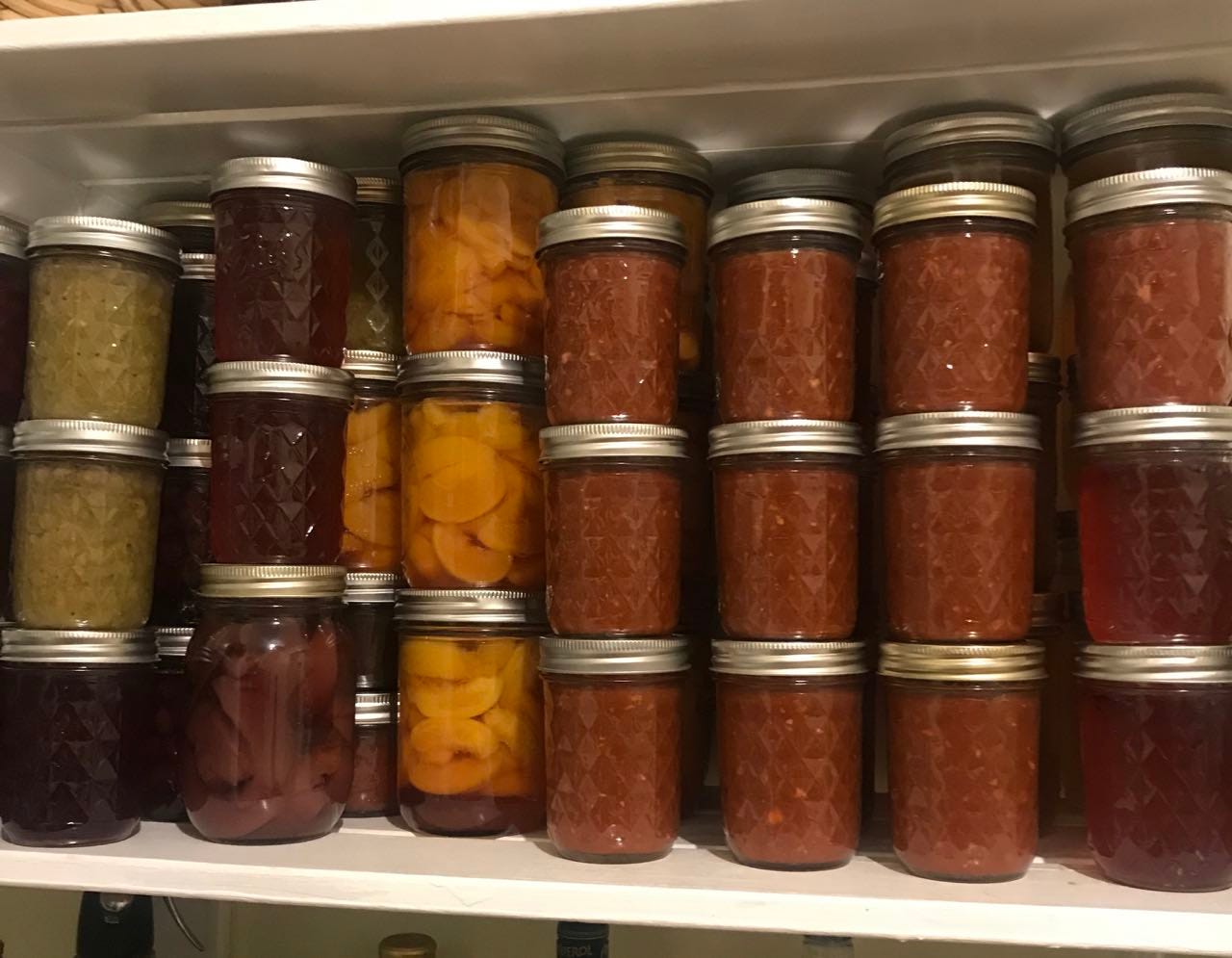 Aside from (waves hand) all this going on … it's fall, which means that my evenings and weekends, which is when I read and try to make headway on this book, are taken up with garden and kitchen chores.
It's also that time of year where all of us leave fruit on one another's doorsteps. Sophie left a bag of apples a couple of weeks ago (they're in the basement, keeping, but I need to do something with them). Jamie left half a wine box of plums. I'd just finished putting up the Montana peaches I found when our Utah provider didn't show up this year (frost, COVID, who knows?). I've put up gooseberry, red currant, sour cherry and peach preserves. I made some terrific sour pickles, and have some green tomatoes fermenting (should check on them). And today, when faced with Jamie's beautiful plums, I turned to the Ukranian/Persian/Romanian cookbooks I wrote about last week. There's a sour plum sauce I've been kind of fascinated by — Tmelki.
This turns out to be one of those things for which there are a million recipes. I found 2 different versions in 2 of Olia Hercules' books, one in Naomi Duiguid's Persia, and another several dozen online. The key ingredients for the red version (as opposed to the even more sour green version made with green plums) seemed to be plums, garlic, and chile. Then there were a couple of flavor profiles — one was Blue Fenungreek/Dill/Coriander seed, and one was Blue Fenungreek/Summer Savory/Mint. So here's the thing, Himself hates fenungreek. I like it, but there's no point putting up a huge batch of something I can't use at all for meals we share. So … I sort of fudged it. I have a spice blend from World Spice out of Seattle that I love called Advieh — Cinnamon, cumin, coriander, cardamom, rose petal, black pepper. It's supposedly Persian, and I adore it.
I cook by smell much of the time. I smelled the plums cooking down, and smelled my Advieh blend, and thought of garlic and chile and smoked paprika added … I made a little test bowl … I fiddled. And then I had to run the cooled pot of plums cooked until they popped, through a food mill. That was messy. There was a lot of fishing around for pits. But eventually, I had a fairly large amount of plum sludge. I ground up 2 heads of nice, local, hardneck garlic in the mini-chop and dumped it in. I used about half a cup of bottled lemon juice to rinse out the mini-chop, as I was a tiny bit worried about canning this. It doesn't have any sugar in it, so you want to make sure it's acidic enough to not botulize the garlic.
And then I started playing. I use my great-grandmother's silver set for everyday, and the bouillon spoons measure out to a tablespoon, and the small round teaspoons to … a teaspoon. So, I started with a couple of tablespoons of salt, then about the same of Advieh. About 2 tablespoons smoked paprika, and 1/2 a tablespoon cayenne. Whenever you're working with chile powders, remember to taste as you go. They all vary. Some are sweet/hot, some are just hot/hot … these were brand new spices I bought this afternoon. We're lucky enough to have a local spice company that stocks our grocery store on the regular. I stirred, it cooked down, I tasted. Added a little more ground coriander, some pomegranate molasses. Stirred, cooked down. Tasted. It started to thicken up. It had a nice heat. Not too hot, a slow heat along the back of your mouth. The sour is lovely. The spices were warm without being cloying.
I bottled it up in 1/2 pint jars, and processed in the water bath for 20 minutes. It should round itself out nicely over the next few weeks before I send them out as Christmas presents.
By the time I was done, I felt that despite everything going on, despite the political chaos, and my job being, you know, a real job, and worrying about the non-communicative person who was supposedly bringing me firewood (were they bringing 1.5 cords, or 3? I didn't know! They weren't going to get here until after dark. Was the wood going to be any good? Did I pay too much? Would the cords be short?) … despite all that, I'd taken the half a box of beautiful plums my friend Jamie grew, and I'd made them into something. I'd turned to the cookbooks from a culture where they'd had to make the best of things for millenia, as waves of invaders political regimes had waxed and waned, and I'd used it here, in Montana, in my little kitchen during a time of turmoil.
Winter is coming, but there's a pile of what looks to be nice firewood in the alley that needs to be moved tomorrow, and a shelf full of preserved fruits, and pickles, and Christmas presents, and I got the new peonies planted in the front yard where the grass is now buried under layers of compost and soil pep, and later this week, I'll figure out where to plant those daffodil bulbs.
It's all such a lot. But sometimes, all we can do is what we can do. Make sauce from plums that show up on your doorstep. Stack the wood. Prepare for winter.